I was supposed to come back to New York last night.
Instead, I opted to drink hot chocolate (nutella, of course) with The Pilot and watch "Love Actually."
Oops.

This weekend was just too good to want to leave and since I didn't have anywhere to be until 3:30 today, I decided to stay home an extra night and make my way back to the city today.
Fantastic idea.
I don't have a tremendous amount to report on my end other than the fact that this week is going to be a lot busier than I'd like it to be.
Aside from work and class, I have 2 papers to write, an absurd amount of reading (for school), laundry to do, a resume to update and an application to fill out for a really exciting program that I'm not saying anything about.
At least not now.
Oh and I have a race this weekend.
Thursday night, I'm heading to my favorite place (DC of course) on some official business and to run the Hot Chocolate 15k with
these
amazing
blogger
ladies
.
I'm coming back Saturday to write another paper, prepare a presentation and get ready to revel in being almost completely finished with my final semester of graduate course work.
Not quite there but so, so close! via
Just kidding.
Kind of. I'll be fine. I have a pretty good handle on things. Once I'm through this week, I'll be in great shape. And for some odd reason, I tend to be really productive in airports and on planes, so I should have a pretty easy time getting stuff done while I'm traveling.
Now, in more exciting news, today is November 28 which means it's time for the Blog Swap Reveal! A few weeks ago, I signed up for a blog swap with some awesome ladies (link below). I was paired with
Erin
who sent me a fantastic package of things she's thankful for…which, I am too. Check it out!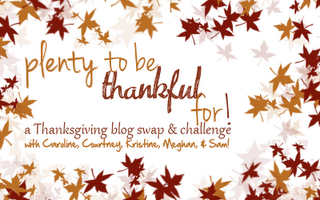 My package came with:
Women's Health magazine
Dunkin' Donuts Pumpkin Spice coffee (yum!)
E.L.F. Eyeshadow and Nail Polish
Burt's Bees Acai Lip Balm (amazing!)
Orbit Wildberry Gym (sooo tasty!)
I love all of it and can't wait to paint my nails for the holidays! Thanks Erin!
Well, that's that. I hope everyone had an easy time transitioning back from the holiday weekend!
PS: I scored some awesome Black Friday deals without having to wait in any crazy lines because guess what…Black Friday deals last all weekend!
I'll be sharing what I got later this week!

So tell me: What was your favorite part of the weekend? Did you go Black Friday shopping? Have you ever participated in a blog swap?
Happy Monday y'all!