Hey kids, no Friday Finds this week. The internet wasn't all that exciting this week...with the exception of
this gem
that Jenna sent me that still has me cracking up...but will only make sense to people who live in DC...for the most part.
So instead, I'm linking up with my new blogger girl crush,
Sarah
, for Fan Fridays.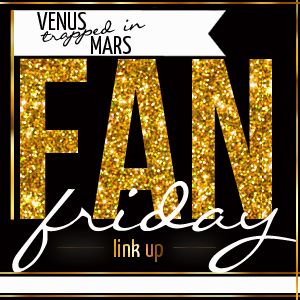 You all know that I'm on this major quest to visit every MLB stadium ASAP (20 down, 10 to go!) and that every time I visit a new stadium, I write a post called "Ballpark #__: Random City Random Team Name."
Well guess what I realized? I've never actually written a post about CitiField, home of the New York Mets, my favorite baseball team. CitiField opened in 2009, a year before I started my blog and I just started rattling off baseball stadiums in order of the ones I went to after I started this blog! So, here goes.
All bias aside, CitiField is my
favorite
Major League baseball stadium. It is
beautiful.
CBS
agreed with me back in April and named it their #2 stadium (with Pittsburgh being #1 which is actually my #2, so there).
It is a gorgeous park.
It's easily accessible from Manhattan by the 7 line train and I love that when you get off the train, it's just there, in all it's glory, with the Shea Stadium Home Rome Apple right there in front of the park.
The exterior of the park was designed to look like Ebbets Field (home of the Brooklyn Dodgers) and thus, playing great tribute to the history of New York baseball. When you first walk in, you enter through the Jackie Robinson Rotunda which pays homage to Jackie Robinson and Brooklyn baseball.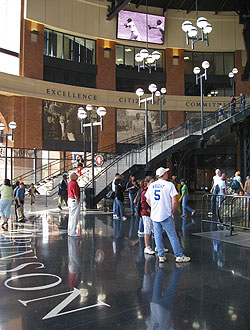 There's a Hall of Fame which holds our grand total of 2 World Series trophies and features some great finds from Mets history.
Inside the Hall of Fame
There isn't a bad seat in the park. Believe me, I've sat just about everywhere! You can get tickets for as low as $5 and great seats for $20. If you're sitting anywhere in the Infield, you can see planes taking off from LaGuardia Airport just behind the Scoreboard. You all know how much of a sucker I am for planes, so this just makes it magical...especially on an evening game when you catch that view at sunset.
*Sigh*
The park has some awesome food options including a Shake Shack (which always has insane lines), Big Apple Brews (great selection of craft beer), Keith's Grill, Box Frites, and the World's Fare Market (home to all of your gluten-free, vegetarian, and anything else to accommodate weird food restrictions).
Even though the stupid Nationals also have a Shake Shack, at least ours has a sweet skyline to make it unique.
At some parks, when the home team scores a run, they shoot fire works. The Mets raise the apple. I love it. You can even buy t-shirts that say "Raise the Apple'.
The Mets are terrible. We are a Minor League baseball team with David Wright. There isn't much to say about the Mets other than we try...sometimes...and our fans never give up hope. People in New York like to say that there are a lot more Mets fans in April than there are in October, to which I like to argue that there are a lot more Yankee fans in October than there are in April.
Mets games are a lot of fun though. As long as you aren't an asshole and don't show up in a Phillies or a Yankees jersey/hat/whatever when the Phillies or the Yankees AREN'T in town, we'll be nice to you. After all, we're just there to see our team play and hope that we don't have to go home with our tails between our legs.
Not a great shot but this is Mr. Met praying on these shirts.
So if you ever find yourself in New York and want to catch a baseball game but don't want to give up your first born child for bleacher seats, head over to Queens and catch a game in CitiField because while we may not always win, at least we have good seats, good beers, and the best mascot in baseball.
Happy Friday!