1. This weekend was totally chill, which is exactly what I needed. Love.
2. I had a delayed opening at work this morning because it was raining. O find this to be absolutely ridiculous but I love it. Love.
3. I have taken entirely to many rest days this month. The name of the game this training cycle is active recovery. It's time to put that into play for February. Don't love.
4. I finally caved and started watching Downtown Abbey this weekend. I watched all of Season 1 and am a few episodes into Season 2. Love.
5. I have been receiving some really rude comments via Twitter lately from self-proclaimed running "experts" who started following me and have been telling me that I'm going about training all wrong and that I shouldn't run on the treadmill so much. I didn't ask for your opinion, thanks. Don't Love.
6. I tackled my first Pinterest DIY project this weekend. I kind of love it. Love.
My mail. His mail. I'll let you guess who gets the most mail.
7. I spent last night with Emily at a fundraiser for Girls on the Run DC ans got to hang out with another super awesome blogger girl who I can't wait to tackle some DC trails with. Love.
8. I also got to meet another one of my favorite bloggers thia weekend and we had an awesome coffee date! Can't wait to hang out with her more! Love.
9. I discovered World Market this weekend and spent almost 2 hours there. Oh my gosh I'm in love. New favorite store right there! Love.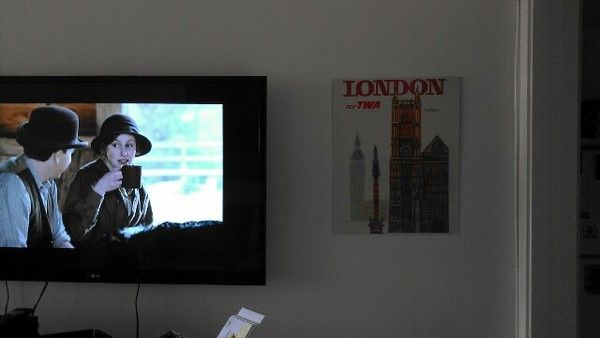 One of my new purchases...with Downton on the TV, of course.
10. I know this song is like 2 years old but I can't get enough of it. I listened to it 3 times on repeat on the treadmill this morning.
Love.
So I had a pretty great weekend. It was super low key but I hung out with some awesome people and it was just what I needed! The late start to my Monday was definitely an added bonus!