Happy New Year!
I've spent the first 48 hours of 2013 bedridden with a violent stomach bug that has made me feel, at many points, like I was on my death bed.
There was no glorious run along the Mount Vernon Trail to kick off the New Year. I didn't hang up my art work in my apartment or finish unpacking. I didn't post my 2013 goals on my blog.
I stayed in bed and The Pilot took care of me as best as he could.
Definitely not how I anticipated starting the New Year, but hey, it happens.
Today, I'm finally starting to feel much, much better. Unbelievably dehydrated, but much better.
So there's my fabulous start to the New Year.
At least, I was able to ring in the New Year in proper DC fashion. My stomach bug didn't hit until approximately 1am which left me ample time to party all over the District.
With all of that being said, it's time to talk goals. I don't make resolutions, I make a list of goals I want to accomplish. You can check out how I did with my 2012 goals
here
. So here's what I have planned for this year:
1. Run a Sub-4 Marathon:
I have got to get this monkey off my back. I ran a 4:01:05 at Richmond it was my 3rd attempt at a sub-4 marathon. I still haven't decided on a spring marathon (or if I even will run one yet) but I have a fall race in mind and would like at
least
two shots at making this happen.
2. PR the Half-Marathon Distance:
I have a lofty time goal on here that I'm not planning on disclosing just yet. Right now, I'm training for the Cowtown Half, which is the first Half I've trained for since New York City in 2012. If I don't end up running a spring marathon, I'm going to use the spring to just really amp up my Half performance and then segway into Fall Marathon training.
Current PR - 1:54:14.
3. Run a Sub-25 minute 5k:
There's a Friday night 5k series in Crystal City during the month of April and I plan on running each of them and finally getting my 5k time below 25 minutes.
Current PR - 25:09.
4. Complete a 30 Day Yoga Challenge:
Whether it's at home or in a studio, I want to do it. I saw my running improve dramatically with regular yoga this past year and I want to keep that up. I'd love to do it in-studio but I know that can be tough, especially with my travel goals for the year (see below), but this is one goal that I don't want to neglect.
5. Fly at least once per month:
The only month I didn't fly in 2012 was January! Considering I wasn't trying to fly that much, I'll call that a success! So far, the only months this year which I don't have travel plans are July and September-December. I'm sure that's bound to change though given my propensity for spontaneous travel!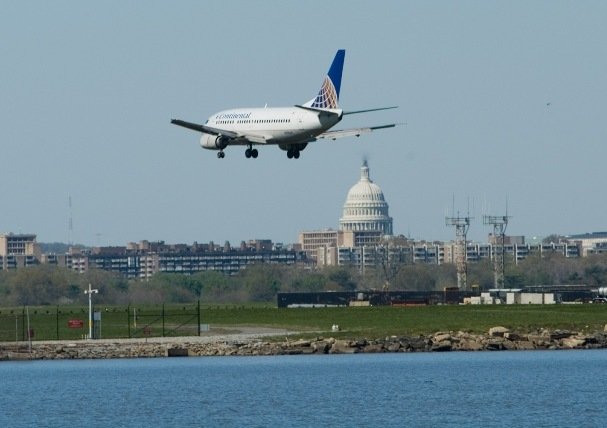 This view alone is enough of an impetus to get me in the air.
via
6. Explore AS MUCH of DC as possible:
I
love
DC. I think that has been evidenced by the amount of times I've been there since I've started this blog. Now that I'm finally living here, I want to see and do as much as I possibly can while I'm here! I have no plans of leaving any time soon (shocker!) but I still want to see it all and The Pilot is right there with me. From the super touristy things like the museums and the Cherry Blossoms to the super fun things like cooking classes and Friday night 5k series, I want to do it all. I was like that when I lived in London and Boston, to an extent. New York? Not so much.
7. Study for the Foreign Service Test:
The Foreign Service Test is a challenging one and takes quite a bit of time to study for. Passing the test lands you on a Register which doesn't guarantee you a post in the Foreign Service, but leaves your name out there for posts that do open up. One is typically placed on the Register for 18 months during which time you may or may not be called up. I'd like to take the test some time towards the end of the year/beginning of next year.
8. Save 1/3 of my Salary:
This is the big, lofty ambitious goal on my list. I know it won't be easy but it's a big goal and I'd like to work towards it. If I don't make it to 1/3 but am able to put away some 20% of my salary, I'll consider this a success. I'm not saving for anything in particular, but I'd like to start setting a good chunk of money aside so that one day, if I decide to buy a house, I can. If I decide to take a wild 3 week trip to Fiji, I can. What this will require is bringing lunch to work every day (except maybe once or twice per month), having date nights because we
want
to go out, not because there isn't any food in the house, and just being a bit more frugal. I'm excited to see how this one goes.
9. Finish my College Scrapbook:
This was a big, giant fail in 2012 as well as on my 25 Before 25 list. This May, I'll have been out of college for 4 years. I need to finish my scrapbook before that time rolls around so I can start doing things with all of my other photos.
10. Continue on my Ballpark Journey:
I'm at 18 with 12 more to go. With a new job, I might not be able to see them all this year, but if I can get to 3 more, I'll be happy!
So there you have it, my 2013 goals! Some are big, lofty and ambitious, others are fun. That's just how I roll. I'm so unbelievably excited for this year, it's not even funny. New city. New job. New goals. What's not to love?
Bring it on 2013. I'm ready for you.
What are some of your goals for the year?