1. We found an apartment! This weekend, The Pilot and I made our way to DC to go apartment hunting. We saw quite a few places but ultimately settled on one of the first places we saw. We move in a week from Thursday!
Love. Love. LOVE.
2. I have an absurd amount of packing and shopping to do over the next few days.
Don't Love.
3. I'm moving to DC. Have I mentioned that?
Love.
*Sigh*
4. NYRR has maintained their radio silence of any news regarding the NYC Marathon. Registrations for fall races will be opening before they plan to make a decision and I'm not going to wait around to find out
if
I can run New York. I may forever boycott the race out of principle. So much for my goal of running all
five
six of the World Marathon Majors.
Don't Love.
5. I got into the Cherry Blossom 10-Miler lottery! This will be my 3rd attempt at running the race and the fact that travel won't be required for this year's race, I'm hoping I'll have better luck this year!
Love.
6. After finding out that I can't run Eugene, I still don't have a spring marathon in mind. Flying Pig and New Jersey seem to be the only races around the same time, but I just don't have much of an interest in either. Maybe some of you can persuade me another way?
Don't Love.
7. I finally got my medal from the Richmond Marathon in the mail! Can't wait to
put it up on my medal collection
pack it in a box and wait a few weeks to hang it in my new apartment!
Love.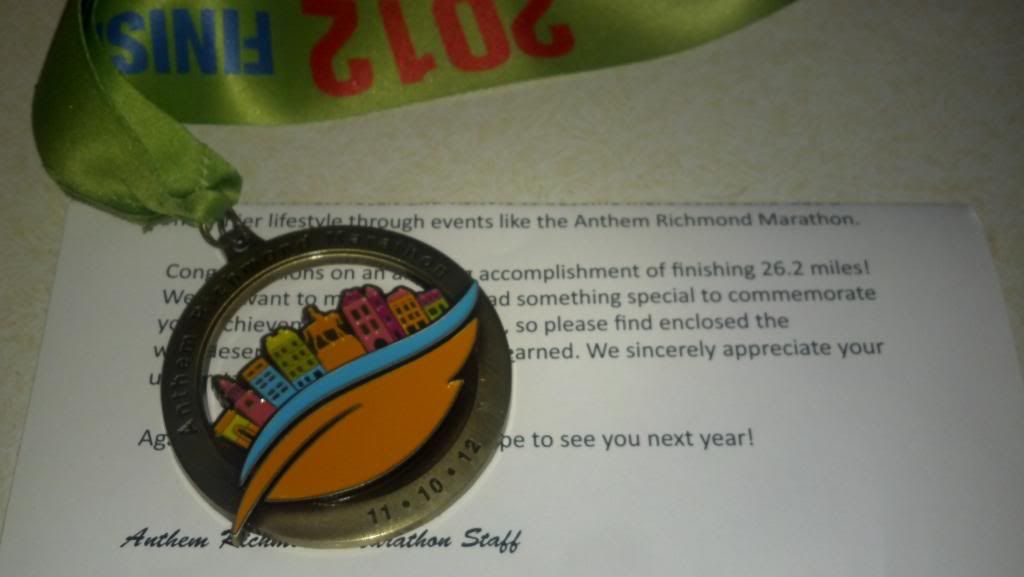 8. I got a new yoga DVD set and I did one of the workouts this morning and it was great! Each practice is targeted toward a day of the week. I'll write a review once I've gotten through the full week.
Love.
Before I log off for the day to start packing, I want to take a moment to say that my heart has been so, so heavy with the news of the shooting in Connecticut on Friday. I'm praying for peace and grace for the students and families that experienced this tragedy and lost loved ones. This was an unspeakable horror that shocked us to our cores and I pray that the community of Newtown is able to find grace at this horrific time.
Have a wonderful week everyone.