This is what I posted on Daily Mile after my first 20 mile run yesterday:
I don't ever want to run again. Ever. I feel like I got hit by a truck. EVERYTHING hurts. I am currently lying in bed with Icy Hot slathered all over my legs, an ice brace on my knee and my compression socks on with my legs about a mile in the air. I just got out of a hot Epsom salt bath and took some Aleve.
The run itself was actually ok. I took GUs for the second time and they powered me through the tough parts of the run. When I finished, I stopped and stretched for a long time before heading back. I stopped and grabbed a Luna Bar and hopped on the bus home. Well the bus decided to take itself out of service and I ended up having to walk 3 blocks and 5 avenues back home to my apartment...and then I had to climb to the top of my 5 floor walk up. When I finally got into my apartment, I just laid on my bed and started to sob. I cried for like 20 minutes before finally getting up to draw my bath. I'm 5 weeks out from my first marathon and I just don't know how much longer my body can take this. Is it normal to feel like this 2 weeks out from tapering?
Today, I feel much better. I'm already over feeling like I don't ever want to run again and I'm actually looking forward to my next 20 miler so I can kick some asphalt and say "Hey 20 miles, you got nothin' on me."
But the truth is, I'm tired. And everything does hurt. And I don't know if I can run 20 miles again. My knee is starting to act up a little bit which is worrying me. I'm 5 weeks out from my race and starting to worry that my knee is going to get worse. I've been reading a lot about KT Tape, so I'm off to Paragon after work today to try some out. It might also be time to start trying ice baths instead of my hot Epsom salt baths. On top of all this, I am the least flexible person on the planet.
I can't even touch my toes
I can't even come near touching my toes. I danced for I don't know how many years, I've done Bikram yoga, it doesn't matter. I am not a flexible person. This, I'm starting to notice, is severely impacting my ability to get in a good stretch after my runs. And this is something I don't know how to deal with.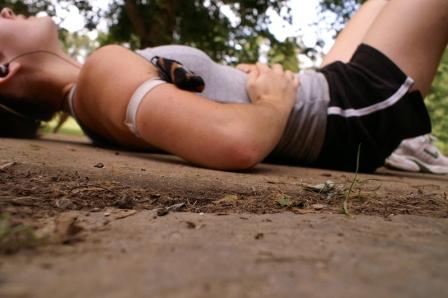 *This is not me, but I can imagine it looks a lot like me lying on the ground in Central Park after my run yesterday*
20 miles is a huge mental game. And the day before my 20 miler, I spent about 6 hours in the library and another 7 hours at home studying for midterms. Had I known in May when I registered for Philadelphia that I would be hitting this mileage in the middle of studying for exams, I wouldn't have done it.
Part of me wants to take a few days off this week, but at the same time, I know how crucial these last workouts before tapering are. I have an easy 4 miler planned for tomorrow. That, I know I can do. But I'm not going to post my training schedule this week. Because I really don't know what I'm going to do. I have my training plan which says I should run 15 miles as my long run this week and 22 next week, but that's also cutting out one 20 miler out of the mix since I'm a week off from my training. Part of me wants to do 15 and take the easy road, the other part wants to take on 20 this week and 22 next week before starting my taper. But is that overdoing it?
As runners, we're constantly obsessed with time, with training, with plans, etc. We may, in our ordinary lives, be the types that live day to day, but as runners, we become locked into a schedule. This week, I'm going to change that mentality around and hope that it does something for me. But I have to wonder, is it normal to feel this way at this point in my training?
So for now, I'm taking a mental break. I'm not going to think about the marathon and I'm not going to think about training. I'm just going to wake up every day this week and decide what I'm going to do that particular day. And I'm going to hope that that makes it better.