1. Weekend Wednesdays -
This semester, I've decided that Wednesdays will be days off from running and I can use the day to cross-train or take a complete rest day if I start to feel the need for it once I get into heavier speed work. I've also decided to take Wednesdays off from work. I'm fortunate to have the privilege of being able to do that so from here on out, I have dubbed Wednesdays as Weekend Wednesdays. Yesterday was the inaugural Weekend Wednesday. The Pilot had come in on Tuesday night so Wednesday morning, we slept in, ate breakfast and headed to the Museum of Natural History (his first time). We saw some two of their exhibits: Beyond Planet Earth and The Butterfly Conservatory. Both were really fascinating. The Pilot knows a ridiculous amount about space travel and some people gave us free tickets to the butterfly exhibit which was amazing! I'm excited to spend my Wednesdays this semester sleeping in, working on my thesis and exploring the city! It's going to be fun!
Butterflies at their feeding station
2. Erin Condren Planner -
On Christmas morning, I woke up to a letter from 'Santa' in my stocking that said, "Pick your planner at Erin Condren." My mom had spent more time than she would have liked scouring the EC website trying to find the right planner for me before giving up and letting me do it myself and I'm happy to say my planner came in last week and so far I really like it. The only downside is that it's a lot bigger than I thought.
A lot.
There's a video on the EC website that shows how great it is and shows someone carrying it to the gym and to the beach and in all reality, it just isn't that portable. I really like it and the way it functions, but when it comes time to picking a planner in 2013, I may have to reconsider if they don't start offering some smaller sizes. For now though, it'll have to do and I love being able to schedule things in the Morning, Day and Night columns of the week. I also love that there's a To-Do List section so I don't have to carry around a separate To-Do List notebook like I do every day.
The quote I chose for the cover is "Passion is allowing yourself to get lost in something."
It's from Eat, Pray, Love.
Goals and To Do Lists on the side bar, Morning, Day and Night sections each day
3. Cross-Training -
It's Week 2 of marathon training and so far, I've been a cross-training machine. Well, not really but I have been doing a lot of it. After trying (and not liking) spinning last week, this week I tried a Pilates class at the Athleta store on the Upper East Side with Emily. It was a great class although a bit too beginner for me. Tomorrow, I'm going to try out Fly Barre with Meggie and I'm hoping to go to a yoga class on Sunday as a post-run recovery though that might be difficult to squeeze in. Either way, I really like exploring different methods of cross-training and I feel like with the added strength training I've been doing, I'm definitely getting stronger! I'm hoping that all of this added exercise will increase my fitness and make for a fantastic finish in Madrid. We'll see!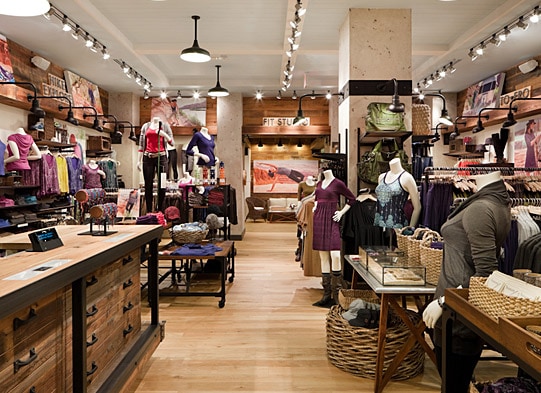 This is Athleta's UES store. I quite like it.
So tell me:
If you had one day a week off every week, what would you do with yourself? Do you have an Erin Condren planner? How do you feel about the size? Love it? Or would you prefer something smaller (or bigger!)? Do you cross-train? Whether you're a runner or not, I want to know what you do to keep yourself in shape! And if you live in New York, let me know what classes I should try out!
Hope your week is going swimmingly!