I know, I know! Where have I been? Since I started blogging, I haven't been away from Blogger for more than a couple days and here it's been a week! Well, there's no better to catch you all up than with a weekly Three Things Thursday post, so here goes!
1.
Washington, DC
- I had an amazing weekend in DC! I got to see all of my friends, spend time lounging poolside and do all those fun, touristy things that one must do upon a visit to the Capitol! I was also able to cross another ballpark on my list: Nationals Park, which is all very exciting!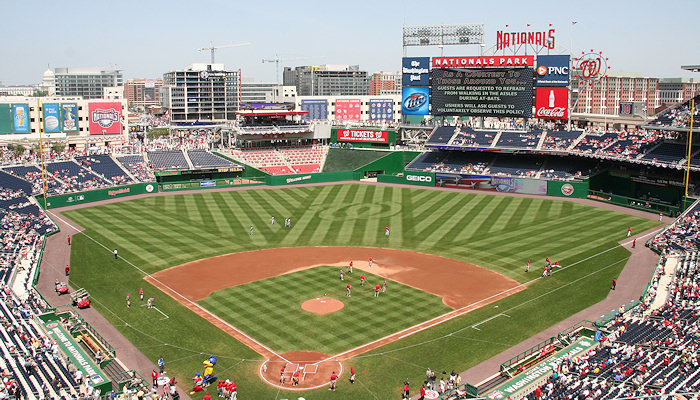 *Sorry guys, I'm having trouble accessing my WiFi on my own computer, so I don't have any pics of my own to share! Otherwise, this post would be full of them!*
About an hour after I got back from DC on Sunday night, my best friend got to my house after a long drive up from North Carolina with her daughter and sister. We've known each other since out Freshman year of high school... from me moving up north to switching high schools three times, her getting married and having a baby, me going through college and traveling overseas, we've been through it all! So, I spent the early part of this week showing them all around New York City, which was quite exhausting having spend the previous 4 days doing the same thing in DC, but needless to say, it was a blast!
2.
Marathon Mondays
- I was planning to start this feature on Monday but due to my unplanned absence from Blogger, it'll have to be postponed until next week! In the meantime, I'm back running again and feeling great! You can see just what I've been up to running-wise
here
! It was awesome running in DC this past weekend and I'm excited to run in Atlanta this weekend and in Chicago next month! I have a 5k planned for September, a Half-Marathon in October and of course the big 26.2 in November, so I'm glad I'm training again!
3.
This Weekend -
I'll be at Ballpark #8 this afternoon: Turner Field, home of the Atlanta Braves! That's right loves, I'm in Atlanta, GA for the first time! I flew in late last night and am staying with a friend of mine who moved here in February! We're catching the Braves game tomorrow, lounging poolside on Friday, and doing all those Georgia Peach-like things one must do in Atlanta! The best part about it? My family is in town from Texas and I haven't seen them since April! So I'll get to see my dad, brother and little sisters!
I'll be catching up with all of your blogs soon, but in the mean time, have a great weekend!