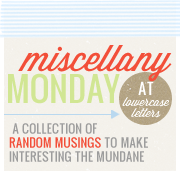 Good Morning friends! I'm linking up with Carissa again for Lowercase Letters since last week's Miscellany Monday seemed to go over so well! Enjoy!
[1] I am absolutely adoring this semester. My classes are going phenomenally (despite missing one due to snow last week!) and I really have a deep appreciation for everything I'm learning, making it that much clearer to me that I not only chose the right graduate program but that I am doing exactly what I should be doing with my life. Love.
[2] I haven't touched The Sound and the Fury since I wrote last week's post. I still hate it and I've been busy with school. Getting through The Book List is not going to be particularly easy if I can't get through this book. Don't Love.
[3]
I went to Ikea yesterday with my mom and my sister. This trip only could have been made better had it been accompanied by a visit to Target. (Those of you who live in close proximity to a Target store have no idea how lucky you are) Despite the mess still lingering in my room, my new apartment is shaping up wonderfully and I'm quickly falling in love with it.
Love.
[4] I am going back to Florida in less than 2 weeks to celebrate mine and my wonderful boyfriend's birthdays. We decided this last night and booked my flights and I can't wait! Love.
[5] My new roommate has two cats. One of them is adorable and always tries to snuggle with me while I'm reading. Love. The other one is evil and hisses and swats at me every time I walk by. Don't Love.
[6] I'm really enjoying my new running club. They're definitely competitive runners and I think it's going to make me a better runner to run with them. Run #3 with the club is tonight! Love.
[7] I watched Saving Private Ryan on my Snow Day. I didn't like it. I thought it was entirely too long and that half of the action scenes did nothing to advance the plot of the film. Come on? A 27 minute opening battle scene? I get that the movie is about war, but that's just excessive. Don't Love.
[8] I have beautiful nails because my girlfriends from school and I went for martinis and manicures on Friday night followed by Mocha Martinis at Max Brenner: Chocolate by the Bald Man. Love.
That's all on my end! I hope you all have a wonderful week! Tomorrow is the 1st of February! Embrace the fact that we are one month closer to spring!